A Spiritual Perspective
on Personal and Social Issues
Dr. Andrews is a Connecticut-based writer, who addresses politics, economics, and social policy from a broadly Christian perspective. His work has been featured in many publications including The Wall Street Journal, The Federalist, and American Conservative, as well as in prominent academic journals.
Imagine a world in which everyday living is tinged with the confidence of serving a high purpose.  In which moral dilemmas are experienced as opportunities to grow-in which risk taking is not bogged down by fear of failure-in which chance encounters are perceived as divinely arranged appointments, and in which even serious setbacks can be beneficial.
The means to make that world your own is the forgotten legacy of the Christian ministers who, for almost three centuries, founded and presided over America's colleges and universities.  The biblical wisdom upon which most higher education was once based meets modern science in this book to show the way to a truly successful and fulfilling life.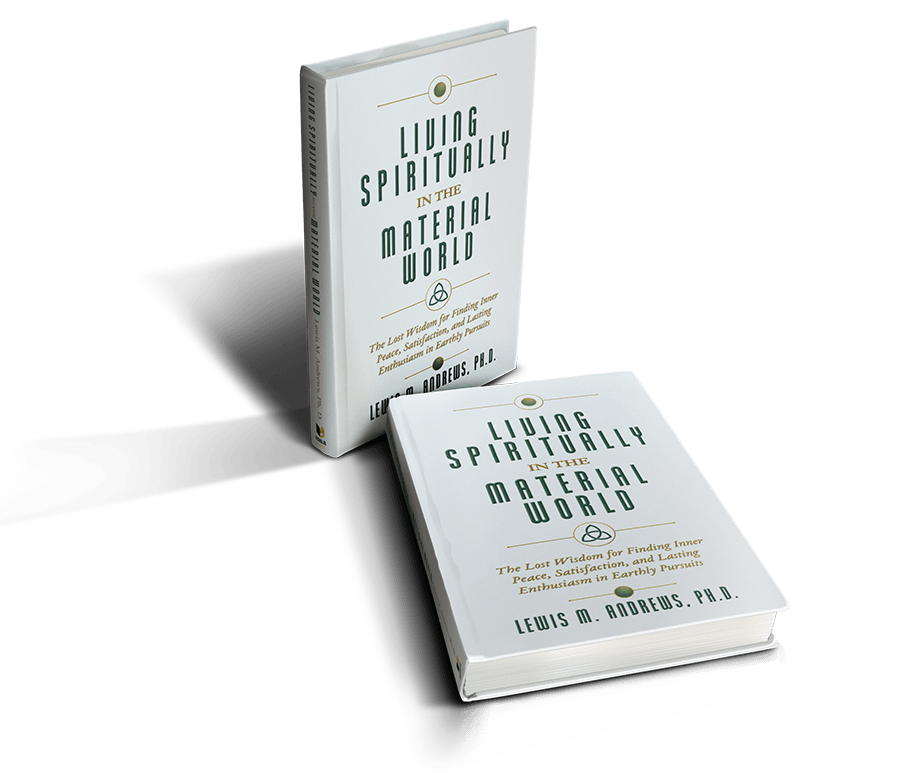 What critics are saying about his latest book,
Living Spiritually in the Material World:
Dr. Lewis Andrews shows us how to lead lives of greater courage, resilience, and grace.
Living Spiritually in the Material World is a surprising and delightful book. Lewis Andrews has done us a great service by discovering and reflecting on classic insights that will help us, even today, to live with spiritual meaning in our everyday lives.
A fascinating study of the spiritual wisdom of early college presidents in U.S. history, which Andrews translates for today's modern audience.
Living Spiritually in the Material World goes beyond self-help to real personal transformation.
Lew Andrews has given us a thoughtful book of lessons to help make sense of today's turbulent and confusing times.
A must read for those who want to live out their faith through their vocational calling. This is a very important part to the 'faith and work' story that has not been told.
Living Spiritually in the Material World is very important …. Well researched and thoughtful efforts to bring to light what we can all sense but didn't have the objective perspective.
An engaging and enlightening book that combines the moral and spiritual wisdom of previous generations of college and university presidents in America with findings of contemporary psychology.
At a time of national moral decline, when there is growing skepticism about the value of our militantly secular and hideously expensive institutions of higher education, Lewis Andrews's Living Spiritually in the Material World will turn your head with a dazzling and hopeful insight.
In Living Spiritually in the Material World, Lewis Andrews sketches out what could make our communities stronger: faith, community, civility.
An unlikely page-turner, deftly blending history, biography, theology, psychology, storytelling, social commentary, and good counsel. A book to read, reread, mark up, ponder on, and live by.